Some products are born from a simple creative spark, whilst others may be generated as a solution. Whether it is as an answer to an informed design brief or upon identifying an opportunity, the design process remains the same. Detailed and intricate from the initial brief to market research and conceptual sketches to design, development, and refinement all the way to the finished product being delivered to our warehouse; the designers at My Furniture are involved in every step of the process. Let us talk you through it for our ever-popular Heidi Range….
The first step is defining the brief, or in this case, exploring possibilities. We often complete range reviews of our products to establish any gaps within our collections. After completing this task with our bedroom furniture collections, it became apparent that whilst we had multiple mirrored and glass furniture options; we were missing something. Something softer, a different material maybe. Something to broaden our range, to appeal to a wider audience but still with an opulent twist.
Now we have our brief, next, is the research. Like with the first step, the second step of the design process doesn't actually involve any designing. We research the market, evaluating potential directions, collecting and documenting opinions to assist in making informed design decisions. Reviewing our competitor products ensures that we create something completely unique and original. Our research is then compiled into a mood board and presented to the design manager. Mood boarding inspires the visual direction of a project, sparking ideas. From here we concluded to commission a range that had a slight Scandi feel but to combine it with luxury elements, harmonious with our glamourous aesthetic.
The initial concept illustrations started with a console table, setting the style of the collection. Experimenting with different elements is easy at this stage. We decided on using wood with a durable white polyurethane paint finish in the first instance. It was a must to incorporate reeding, small cylindrical ornamentation; an interior trend which we had not yet explored. Quickly sketching out ideas we considered the leg structure, detailing varying sizes and placements of the reeding, and investigating different handle options until we honed in on a final design.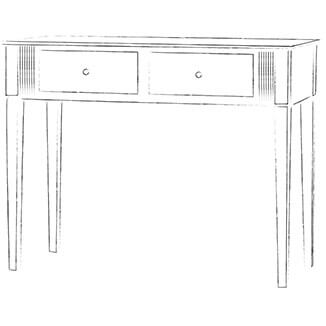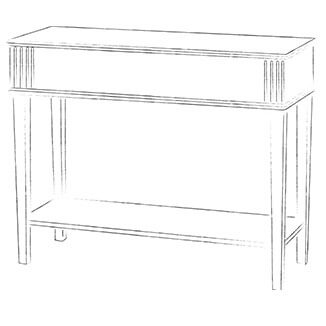 With more of a concept to develop, we then move to computer aided drawings. Fusion 360 is our tool of choice, an industry standard modelling software; in which we are able to use the sophisticated geometry to give our ideas life, creating detailed 3D models, realistic renderings and technical drawings for manufacture. We work methodically inputting dimensions and sketching/extruding until we have a realistic form ready to render. The design naturally develops and evolves during this process as we are now working to scale, we have a better understanding of proportion, functionality and aesthetics, and how they combine together. It also gives an advantage when envisioning how the full collection would relate to each other in a situation and ensures we keep consistency across a variety of products within the range.
As our elegant, feminine console table took shape; it became obvious that a delicate handle was necessary to complete the design. After additional research and development, a dainty and graceful, jewellery inspired handle was created; designed in both brass and silver colours allowing for customisation.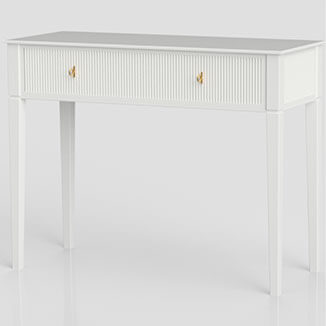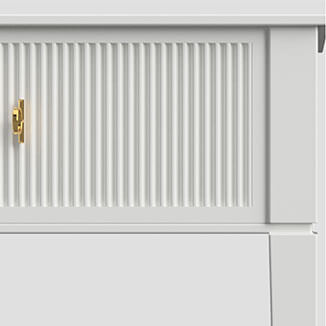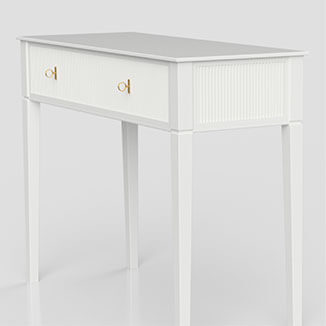 The next step was to explore how the distinctive characteristics of the console table would translate onto other products, initially a bedside table and a chest of drawers. With the renders and technical drawings complete for these original three products, we were ready to send the designs to the factory for quotation. It is crucial when designing new products that we consider material, manufacture and shipping costs; working to a price point which we consider to be commercially viable when the final product arrives to us here in Nottingham.
With the cost price approved by the necessary avenues, the sample process can start. Creating a prototype is an essential part of development as it helps us understand production time scales, manufacturing viability, practicality and functionality. We work directly with an overseas QC who ensures each sample is tested allowing us to timely identify and resolve any flaws or misinterpretations of the design drawings prior to implementing mass production. For the Heidi products, the sample process progressed smoothly with only a few little tweaks. Due to the fragile nature of the protruding edges surrounding the top of the product, we were concerned about damages during transportation, so it was imperative to conduct a drop test. The item is packaged using high quality PE covers and protectors, placed into a carton box and then dropped from multiple alternating heights and then reviewed for any flaws or weaknesses. This helps us to recognize any issues with the packaging or design. Following the results of the drop tests for the Heidi collection, the factory recommended we increase the depth of the top slightly to protect the product. The samples were refined and additional tests were carried out before they were deemed fit to order by the QC.
After the samples are signed off, our merchandiser prepares the order, informing the factory of the desired quantities for each product, allowing for the necessary planning of production and materials. Pre-production samples are generated for further QC testing to ensure consistency, confirming that the order corresponded to all the requirements previously checked.
Our involvement at this point becomes limited as the factory complete the order and the relevant persons organise distribution. When the range reached our warehouse, our photographer captured the collection in our studio, passing the completed images to the web team to add the listings to the website.
With all our work done it's time to see how the range sells. This can be a little nerve-wracking, as we put so much work into each range, naturally we want it to do well. Luckily, the Heidi proved to be a quick success, so much so, we also commissioned the range in a matte black lacquer, as an alternate option to the white.
Behind the scenes we have been busy expanding the Heidi collection, initially to include a king size bed, a wardrobe and a dining table. These will arrive in both colours in early 2022. Keep an eye out for any new additions to our range by visiting us online at www.my-furniture.co.uk or in person at our showroom in Nottingham. For sales and product enquiries, contact us at customerservice@my-furniture.co.uk or 0800 092 1636.

Laura Murphy, 2022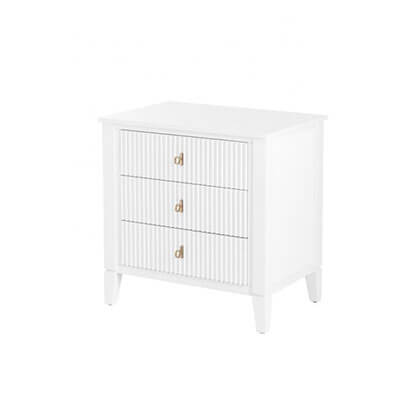 Heidi
White bedside table with reeding detail
Heidi
White console table with reeding detail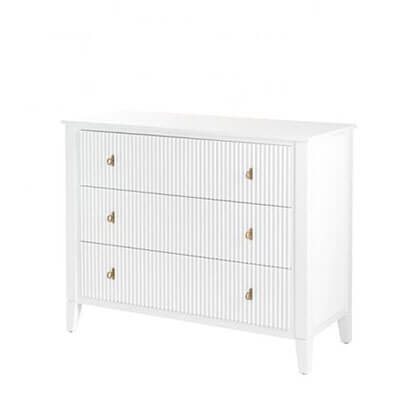 Heidi
White chest of drawers with reeding detail
Heidi
White dining table with reeding detail
Heidi
White bed with reeding detail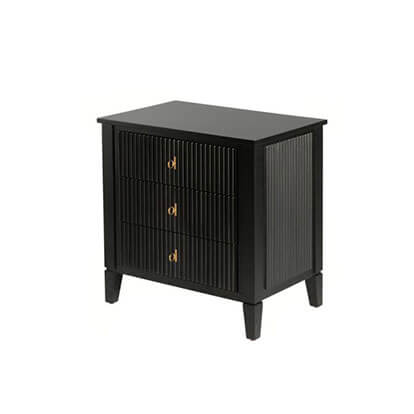 Heidi
Black bedside table with reeding detail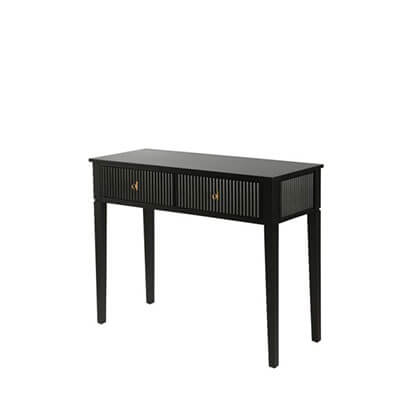 Heidi
Black console table with reeding detail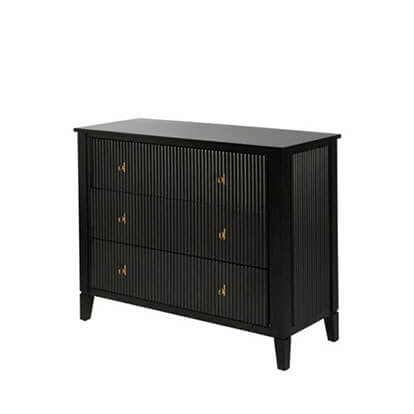 Heidi
Black chest of drawers with reeding detail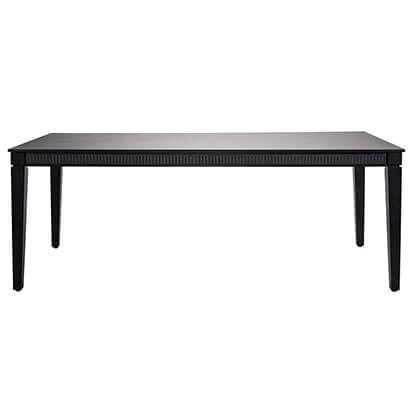 Heidi
Black dining table with reeding detail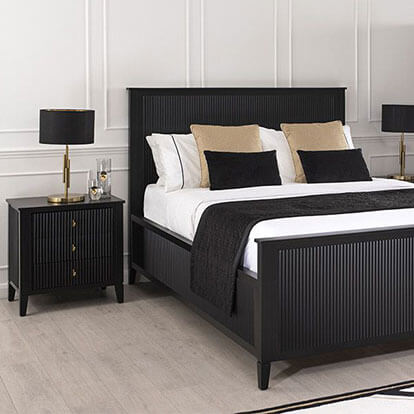 Heidi
Black bed with reeding detail